THE BEST CARBON DISC WHEELSET
Summary: A carbon disc wheelset that's fast, stiff, comfortable, and handles well on a range of road and the occasional off-road terrain gives you all you need most any day you ride. Because it performs better on more measures and is more versatile than any other carbon disc wheelset we tested, I recommend the ENVE SES 4.5 AR Disc available here, here, here, and here, links to stores I rate highly for their prices, customer satisfaction, and support. 
---
If you own a road disc bike, you may be looking for that one all-around, carbon disc wheelset that performs well across a wide range of terrain. It's a fair bit of work to sort through all of those out there now because, along with the rapid growth of road disc bikes, there's been a quick evolution of carbon wheels for these bikes that do it all and do it all really well.
The latest carbon disc wheelset generation is really the first group developed uniquely for road disc bikes and independent of design or manufacturing considerations that go into their often similarly named rim brake siblings. They are faster, more comfortable, and more versatile on a wider range of terrain than either the rim or disc brake wheels that came before them, many of the latter of which are still being sold.
In this post updated with models introduced starting in 2018, I'll take you through the rapid evolution of road disc wheelsets, tell you how I rate each of the latest generations of all-around carbon ones against the criteria that really matter, and recommend the Best Performer wheelset.
Related: Looking for an alloy road disc wheelset? Click The Best Road Disc Wheelset Upgrades
Related: Not sure what kind of wheels to get? Click Road Bike Wheels – How To Choose The Best For You
WHAT YOU NEED TO KNOW ABOUT CARBON DISC WHEELSETS
Click on any red statement below to go directly to that part of the post
Third generation carbon disc wheelsets now outperform rim brake ones

A handful of performance criteria matter most when choosing between different wheelsets

You have a half dozen good options to choose from including a Best Performer

Compare wheelset performance, prices, and specs for the wheelsets I reviewed in this chart
Why I may not have included wheelsets you've heard about
CARBON DISC WHEELSET DEVELOPMENTS
I wrote about the developments across all road disc wheelset categories (upgrade, carbon all-around, aero, and climbing) in a review of the best upgrade wheels for road disc bikes. Those developments include:
the pace of sales of road disc bikes
the underperformance of the "stock wheels" that come with those bikes
the compatibility, if not standards for disc brake wheelset hubs, axles, and hub-rotor interfaces
the near-ubiquity of tubeless-ready or tubeless optimized road disc wheelsets
You can read more about those developments here.
In addition to those, there are a number of developments specific to the all-around, carbon bike wheels for road disc bikes that I've summarized in this table below and discussed below it.
Carbon Disc Wheelset Evolution 2014-2019
The most notable takeaway for me after assembling this chart is how quickly things have changed and how much the latest generation of all-around wheels for road disc bikes are different than those for rim brake bikes.
These changes have made the all-around, carbon disc wheelset faster, more comfortable, more durable, and more versatile than all-around, rim brake wheels without any effect on stiffness, acceleration or handling.
Remember when better braking was all that most people fixed on when talking about the benefits of going to road disc bikes? Well, the ability to get all the benefits I just summarized is a whole lot more than better braking, which was enough of a reason for many people to go with a road disc bike in the first place.
Let me go through some of these benefits a bit more.
Faster – Wider rims mean you can run 25C tires to gain more comfort without incurring additional drag. Most of the Gen 3 road disc rims were designed using 25C tires and produce vertical tire sidewalls that are narrower than the external rim width.
Putting 25C tires on many Gen 2 wheels will increase drag as the tire sidewalls will be more rounded and measure wider than the rim where the two meet. This creates a turbulent airflow from tire to rim and rim to tire. When the flow is less interrupted or laminar, it "sticks" to the combined tire-rim airfoil, moving from one surface to the other more smoothly and creates less drag and more "lift" when you are riding at or above speeds of 18-20mph or 29-32kph.
Wider tires also will give you marginally lower rolling resistance when inflated to the same pressure as a narrower tire.
Without the need for the rim to include a brake track, road disc rim profiles are being designed with less limitation and more attention to crosswind management and reducing losses at the tire-rim intersection, both of which improve aero performance.
More Comfortable – Tubeless allows you to run your wider tires at lower pressures without pinch flat concerns. Lower pressures make for a more comfortable ride. You certainly can run wider tubeless tires on all-around rim brake wheels but many of those wheels are still 17mm wide internally and several aren't tubeless-ready.
More Durable – The best carbon rim brake wheels are using resins with high melting points to make it much harder for riders to warp them when they drag the brakes. The trade-off is that these resins can make the wheels a bit brittle. While I can't quantify the difference, dedicated disc brake wheels use lower melting temperature resins that are less brittle.
More Versatile – Because these all-around, carbon disc wheels are wide, tubeless friendly, and more durable, you can comfortably ride them at lower pressure to enjoy dirt, fire roads, class 1 or 2 gravel and the like or use them for cyclocross. Doing so can save you having to buy another set of wheels for those surfaces.
A few words about tubeless tires. You'll notice that tubeless tires are mentioned quite often in my description of developments and the benefits they bring.
Those of you who have read my posts carefully over the years (thanks Mom!), may know that I haven't recommended road cycling enthusiasts use tubeless tires in the past. They have historically been a hassle to mount and can leave you with a difficult and messy repair job if your puncture is so nasty that the sealant doesn't close it and you need to install a tube during a ride. Further, tubeless tire rolling resistance and prices have also historically been higher than going with a traditional tube and tire clincher on your wheels.
Well, tubeless tires and tubeless rims have come a long way and I've changed my views about them. Yeah, this is next-gen Steve reporting to my fellow roadies now.
Removable valve cores, easier to mount rims, and a whole lot more experience with tubeless tires while testing all these road disc wheelsets has made installing them easier and cleaner, and mellowed me somewhat to the minimally more added work they bring over standard clincher tires.
Lower prices, lower rolling resistance (equivalent or lower than the best tubed tires), the ability to run lower pressures, more comfort, and having every puncture seal so far has made me look past many of my previous objections.

While tubeless still requires a learning curve, I can now say the benefits they bring with the right rims can outweigh the diminishing disadvantages and make it well worth getting up that curve if you want those benefits. My review of tubeless tires lays all of this out in more detail and gives you my recommendations of the best ones.
WHAT MATTERS MOST
For each In The Know Cycling review, I evaluate category-specific criteria in four groups – performance, design, quality, and cost. The criteria that matter most in those groups for the best all-around wheels for road disc bikes are as follows:
Performance:  Versatility, aerodynamics, crosswind management, stiffness, acceleration, comfort, and handling.
Design:  Wheel weight and material, rim depth, rim inner and outer widths, rim profile, hub and spoke design, and wheel finish.
Quality: Durability, warranties, and service/support.
Cost:  Purchase price, cost of ownership and replacement cost.
I detail what I mean by these criteria for rim brake all-arounds here.
Most of those are common with the ones I used for carbon disc brake all-arounds with a few exceptions and changes in emphasis that I'll point out below.
While all these criteria are important, some are more or less important depending on what kind of riding you do and what kind of bike you have.
Since the latest all-around carbon disc wheelsets are deeper than earlier ones (some closer to 50mm versus most Gen 2 being 35-40mm), I've added crosswind performance as a criterion for this review.
And since these wheels are ideal for both a wide range of paved road terrain and for mixed or unpaved surfaces and for cyclocross racing, versatility is even more important when evaluating all-around carbon disc wheelsets than all-around rim brake ones.
Other criteria, like stiffness, are equally important whether you are talking rim or disc brake wheels or all-around, climbing or aero wheels regardless of your braking method.
Braking performance isn't part of the disc brake wheelset evaluation since most hub and spoke systems on disc brake wheels effectively transfer the braking responsibility to the rotors and calipers.
Design specs like weight and rim width are worth noting but may or may not deliver the intended performance those specs are often associated with. A wheelset's actual acceleration, stiffness, and comfort on the road, for example, are far more important than the design specifications that we often get so hung up (and sold) on and that we too easily equate to those performance attributes.
Considering the range of options the road cycling enthusiast has to choose from in all-around wheels for road disc bikes, I'm recommending a Best Performer but not a Best Value wheelset at this time.
I pick the Best Performer using the performance criteria mentioned above independent of cost. My Best Value wheelset pick considers both performance and cost criteria. There are several, relatively or brand new third-generation wheelsets I am currently evaluating, one of which may be a better Best Value choice than the second generation wheelsets now available at low prices.
Quality is either a go or no go in my recommendations. I won't recommend anything that doesn't have an acceptable level of quality according to my criteria. I'm also not going to recommend something that has superior quality but under-performs or has higher costs. When two wheelsets perform more or less the same, I do consider quality and cost criteria in recommending one as a Best Performer.

With all of that noted, here are my evaluations of the best all-around carbon disc wheelsets for road cycling enthusiasts.
---
Find what you're looking for at In The Know Cycling's Know's Shop
Compare prices on in-stock cycling gear at 15 of my top-ranked stores
Choose from over 75,000 bikes, wheels, components, clothing, electronics, and other kit
Save money and time while supporting this site when you buy at the store after clicking on a link*
*While there's no added cost to you, some stores pay commissions that support our product review and site expenses.
---
REVIEWS AND RECOMMENDATIONS
BEST PERFORMER
ENVE SES 4.5 AR DISC – PERFORMANCE AND VERSATILITY THAT'S HARD TO BEAT
If versatility is one of the key measures of an all-around wheelset, ENVE's SES 4.5 AR Disc is the most versatile of any road disc or rim brake wheelset.
It does more things better than any of the other wheels I've reviewed. At a market price starting at US$2550, £2700, €3000 depending on the hub choice, it also costs more than others.
This sets up the ever-present question we roadies face – is it worth paying more to get the best performing gear for the kind of riding I do?
That's for each of us to decide individually. If you are a full-on road cycling enthusiast who likes to come out and play aggressively and comfortably on rough roads, gravel, dirt or grass in addition to going really fast and smoothly on good roads in individual and group rides or races, the ENVE 4.5 AR is the place where your money will have the biggest payoff.
You probably already know that at 25.0mm measured, the 4.5AR carbon disc wheelset has a far greater internal width (by 4-6mm) than the 19C (19mm) and 21C (21mm) of others in this category and at 50.2mm front, 55.2mm rear per my measurements, are as deep or deeper.
The 4.5AR's performance does bear witness to those design factoids. It feels as fast or faster on flat, rolling, and descending terrain, as comfortable on the good roads, more comfortable on rough roads and unpaved paths, and handles better than any other carbon bike wheels, disc or rim, I've ever evaluated.
I'll just let that last statement sit there and breathe for a minute.
It accelerates, climbs, and deflects crosswinds on par with all but the best wheels in those categories that I've reviewed here. With the more than capable and relatively quiet ENVE alloy hubset, the 4.5 AR weighs remarkably little – 1569 grams – given its size. You can also get it at a higher price with Chris King R45 hubs if you prefer its freewheeling sound and faster engagement.
Yeah, the 4.5 AR's width makes them stand out against other bikes when you are riding in a bunch or stopping for a break. And you only should plan to ride them tubeless, which takes a bit more effort to initially set up, if you want to get all the benefits of these wheels. You'll also want to check the chainstay and fork width clearance on your frame if you've got an older road disc bike.
But, if you want great performance from one wheelset that you otherwise might need to have two different ones for the range of riding do, the 4.5 AR stands alone and probably is a more price-competitive option vs. the cost of buying two wheelsets.
Note that the ENVE 4.5 AR is "hookless" meaning the rims don't have hooks on the inside to mate with the beads from your tubeless tires. When you run tires at lower pressures, as you should with these rims, it's debatable whether you need hooks to keep road tires in place. As some tubeless tires don't work well with these hookless rims, ENVE published a list of tires they have approved and recommend and a few you shouldn't (including the Continental GP 5000 TL).
To see the full list, click this link, scroll down just below the wheelset photo and click "Tire Compatibility". From the same link, you can also scroll all the way to the bottom to see recommended tire pressures given your weight and tire size.
You can get the ENVE SES 4.5 AR Disc at my top-ranked stores Competitive Cyclist and Merlin and others at Know's Shop that I recommend because they have the best prices, customer satisfaction records, and selection on enthusiast-level cycling gear. You can also get it directly using this link to ENVE or at recommended store JensonUSA.
In The Know Cycling supports you by doing hours of independent and comparative evaluations to find and recommend the best road cycling gear and kit to improve your riding experience.

You can support the site and save yourself time and money when you buy through the links in the posts and at Know's Shop to stores I rank among the best for their low prices and high customer satisfaction, some which pay a commission that helps cover our review and site costs.

Click here to read about who we are, what we do, and why. 
---
---
CAMPAGNOLO BORA WTO 33 DISC BRAKE – GREAT LOOKS AND ENGINEERING
It's easy to see how one can fall in love with the Campagnolo Bora WTO 33 Disc Brake wheels.
Taking them out of the box created one of those rare moments when I say to myself, "Wow. These look special."
The glossy black paint finish on the rims is stunning. It's as high quality as any I've seen on a fine automobile. I couldn't help but look down at them gleaming in the sun from time to time during my month of test rides.
Likewise, the hub shells, while aluminum, look finely fitted and coated. The freehubs (I ordered Campagnolo 12-speed, Shimano HG11, and SRAM XDR bodies to test with different groupsets) look like they were precision machined.
I seldom even comment on the aesthetics of wheelsets or any bicycle component let alone open a review with the kind of praise of a product's looks that I just did. One's view of beauty, fashion, style, and the like are all subjective and personal. Far be it for me to suggest that my subjective perception of these things is how you should see it.
But the Bora WTO wheels are unique. Like them are not, their extraordinary look sets them far apart from other road wheels.
If that's where the story ended – skin-deep beauty and all of that –  this would be a rather shallow review.
Instead, what you see on the surface is an indication of the engineering that shows up in the Bora WTO 33 wheelset's performance.
The pleasing-to-the-eyes hubs I commented on above roll silky smooth on the road. The freehubs sing a refined, even-tempered tune I can listen to for hours rather than the loud or harsh emissions of other hubs that shout to stand out or the uneven whomp, whomp of those that don't sound as well made.
I sensed these wheels would roll better than most after putting my thru-axles into the hubs. They don't slap in as with every other wheelset I've attached to a frame. Instead, they slide in with a little resistance and tighten up only with the proper alignment of axle and frame that suggests tighter tolerances than most wheels.
Once installed, they spin in the stand seemingly forever or, in reality, for enough time for me to grab something from my workbench and come back to the stand and see them still turning.
The Bora WTO 33 disc brake wheels are also sufficiently though not overly stiff. Whether doing a 20-minute climb up an average 7% grade or 20-minute tempo intervals punctuated by sprint bursts every few minutes, the wheels didn't flinch even though my legs wanted to.
Going downhill and handling at speed feels confident both on the Vittoria Corsa G+ 2.0 and Continental Grand Prix 5000 tubeless tires I paired with these Campagnolos. At recommended tire pressures, they feel comfortable but not overly plush.
Despite their 33mm low-profile depth, the Bora WTO 33 rides more like a smooth-rolling all-around wheelset that isn't affected by crosswinds than a highly responsive, fast accelerating wheelset to take on your next alpine climbing vacation. Its 1512 gram measured weight (including pre-installed rim strips but not tubeless valves) is also in line with today's all-around road disc wheelsets.
If the Campagnolo Bora WTO 33 Disc Brake's combination of looks, engineering, and performance suits you, order them using these links to the wheelset's page at ProBikeKit and Chain Reaction Cycles, stores I recommend for their combination of low prices and high customer satisfaction ratings on a broad selection of enthusiast-level cycling gear.
DT SWISS ERC 1100 DICUT 47 – PREDICTABLY GOOD PERFORMANCE 
Even though they sell a ton of wheelsets under their own brand name and as stock wheels for leading bike makers including Giant and Specialized, DT Swiss has never been known for the performance of their own branded models of more expensive wheelsets. Hubs and spokes? Yes. But, high-end wheels? No.
DT Swiss seem to have always been behind the curve with rim shapes, widths, carbon, and whatever else goes into making rims that combine with their ubiquitous hubs and spokes to make top-performing wheelsets. They seemed to lack a design point-of-view about how to make great rims that, right or wrong, is clear and consistent at companies making high-performance wheels.
Perhaps realizing this deficiency, DT Swiss has gotten aero design and testing help for the ERC 1100 DICUT 47 and other new DT Swiss brand wheel products from the wheelset design company SwissSide. The latter is a relatively new company led by race car designers that sell mid-depth and full-depth aero wheels targeted to triathletes and time trialists. As for DT Swiss, their new line of endurance wheels are only made for road disc bikes. Very Gen 3!
Has this collaboration brought the ERC 1100 to the performance level of the best all-around wheelsets? Not in my evaluation, but they seem to be getting closer.
Overall, I'd say the ERC 1100 is predictable. That word can have both positive and negative connotations of course, but it best sums up for me what I find in this wheelset.
It is certainly fast and stiff, as you would expect from a wheelset this depth. Anecdotally, and I say that since construction on the In The Know Cycling wind tunnel is not scheduled to start until 2038, I'd put the ERC 1100s in the range of the faster wheels of this group on the flats and hills. Tour magazine put their aero performance only behind the ENVE SES 4.5 AR amongst the wheelsets we both evaluated.
Though their weight measures in the middle of the pack and they certainly can climb, they wouldn't be my first choice for a long ride with a lot of hills and steeper climbs. They just don't go uphill as well as other all-around wheels I've reviewed in this post.
The ERC 1100's ride is firm, even at the 70 psi pressures that I ride tubeless wheels. Firm is not harsh and it's not cushy. You'll get the kind of response from the road you would expect based on what you see in front of you. You won't get jarred nor will you float above it.
If you want to go off-road and not get tired out riding on dirt or mixed surfaces, I'd suggest dropping the pressure on these wheels another 10 or 20psi from the level you normally ride.
Wind conditions are manageable with the ERC 1100. When the winds come, you can comfortably steer through them.  You certainly won't get blown over nor can you plan on the wheels totally taking care of the crosswinds for you.
Finally, handling is confident, precise and … predictable. So are the hubs, which use the very solid DT240 internals I've come to know and very much enjoy. They are used on many top-performing wheelsets.
Predictable for me means you are going to get what you expect and not be let down. Applied to the ERC 1100, it means you aren't going to get any special thrill or surprise, good or bad, from these wheelsets. They are solid performers that do what you expect. Very Swiss.
Perhaps it is surprisingly good to get a predictably good top-end wheelset from a company that has, for me, turned out only average wheelsets in the past. I'll take it.

Despite an MSRP/RRP that is as high-end as the carbon disc wheelset they aspire to be, you can often find the ERC 1100 DICUT 47 at a far more competitive market price by clicking through to my recommended store Tredz (10% discount with code ITKTDZ10) and others at Know's Shop.
EASTON EC90 SL DISC – SOLID AT A GOOD PRICE 
Easton's EC90 SL wheelsets have been through several iterations over the years. The rims have gotten wider, the hubs have improved, and tubeless and disc brake models have been added to the clincher, rim brake ones, the latter which have improved braking performance.
I've ridden several of these models and, as with the current EC90 SL disc wheelset that is the subject of this review, usually come away with the same conclusion – this is a solid wheelset and better than the last version.
"Solid" modifies several of the performance characteristics of the EC90SL disc wheelset. Overall, I always felt solidly planted riding these wheels. No surprises or conditions I need to worry about or make up for.
The latest Easton, centerlock Vault hubs roll smoothly and coast with a rich (versus tiny or variable) freehub sound. The rear is a solid-looking thing with a hub shell shaped like the bottom 2/3rds of a nose cone as it increases in diameter toward the far larger drive-side flange.
There are a lot of specs – weight, pawls, teeth, engagement angel, etc. – that go with the hub description but what matters most is the noticeably quick acceleration it all produces.
I mention the hubs early in this review as I found they are what gives the EC90 SL disc its personality and allows the rest of the wheelset performance to be… solid, if not particularly distinctive.
It's not an overly stiff or plush wheelset yet neither is it noodly or harsh. Crosswinds and wind gusts don't affect your ride or line a bit, better than most in the all-around category.
I rode the EC90 SLs with 25mm Zipp Tangente road tubeless tires that together handled well through all the cornering and maneuvering I threw at it. Continental Grand Prix 5000 TL tires wouldn't fit on these rims, a problem I've had putting those tires on other wheelsets as well.
While there are a lot of enthusiasts using 28mm tires on road wheels these days to get better comfort and handling, I'd recommend against that with these wheels if speed is a priority for you. Even the narrowest 28mm tire I tested measured only slightly narrower than the 28mm EC90 SL rims when mounted and most are wider.
This will put a big dent into the wheelset's aero performance that is at best on par with the average hoops in this review of mid-depth wheels. And as mentioned earlier, the handling with 25C tires inflated properly is very good.
At a market price of $1900 in the US market from Easton, the EC90 SL disc is one of the less expensive wheelsets in the all-around road disc category. Outside North America, it's harder to find and more expensive than most (Tredz 10% discount with code ITKTDZ10).
While it clearly performs a step above wheels in the increasingly popular $1000-$1500 value carbon category, it might be time for some further updates to move it from solid to standout.
HED VANQUISH 4 – STIFF, VERSATILE YET NEEDING A BIT MORE CARE 
It would be an understatement to say HED Cycling took a while to offer an all-carbon clincher wheelset. One of the first to sell wheels using toroid-shaped, deep-section rims to gain aero advantage over 10 years ago, the company had only used their patented design for tubular or carbon-alloy wheelsets.
That has now changed with the introduction of the disc-brake-only HED Vanquish carbon clincher wheelsets. By not making these in a rim brake version, HED effectively avoided the engineering challenges other carbon wheelset makers went through to prevent overheating, delamination or blowouts from the heat created by rim braking.
My fellow tester Miles, a successful P/1/2 racer who wins a lot, and I, a B-group rider who watches a lot of races on TV, evaluated the HED Vanquish 4, the 40mm deep all-around and shallowest of the new line which also includes 60 and 80mm deep models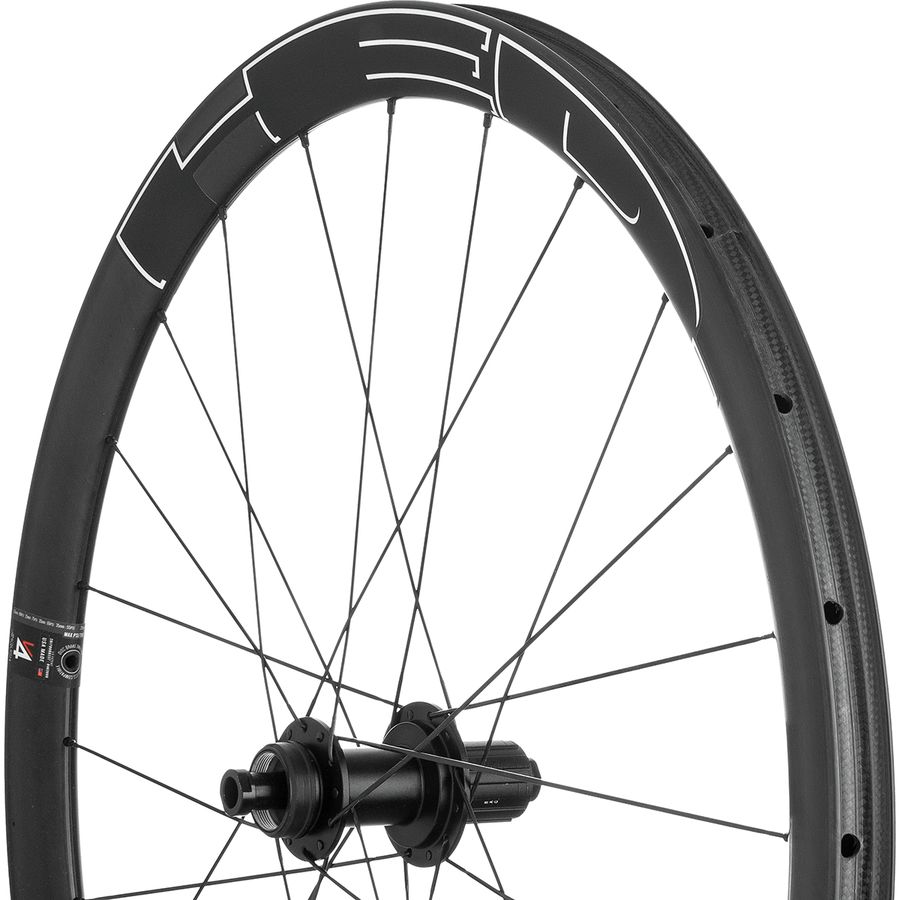 There's a lot to like about the Vanquish 4. This is a highly competitive road disc wheelset for the company's first all-carbon clincher offering.
At the same time, there are a few things still lacking and that might not appeal to the less competitive, less handy rider that makes me think HED would have benefitted from making and getting carbon clincher experience a bit sooner.
Above all, the Vanquish 4 is a supremely stiff wheelset. This provides a big advantage when initiating or responding to acceleration on the flats, charging uphill, and sprinting out of corners.
Miles felt a ton of confidence going hard into corners and the post-corner sprint stiffness was inspiring. In a full-out straightaway sprint, he found nothing lost in his forward progress toward the line.
The Vanquish 4 are relatively light wheels too. The pair we tested weighed 1466 grams without tape or valve stems, about 50 grams less than what HED claims. That made them the lightest in this category and another one of the stiff wheelsets in this category.
While you probably want rims deeper than these 40.3mm ones for maximum aero performance or a flat criterium, a race whose last kilometer has a 3-6% kicker into the finish would be ideal for these HEDs.
If like me, you aren't a racer, all that good stiffness and handling and climbing are still the things you want and that I enjoyed in this wheelset. And if you branch out to do some mixed surface, gravel or cyclocross riding, the Vanquish 4 offers a lot of versatility as you can run 25C, 28C or wider tires with good sidewall support on these rims which measure 21.3mm internal width.
For best aero performance, you'll want to run 25C tires. HED's aero tests with the benchmark Conti GP4K SII show the 25C performs better than the 28C version of the same model tire. My measurements show the Conti GP5K TL measures 27.0mm at 80psi or a millimeter narrower than the actual 28.0mm external rim width at the tire/rim intersection and 29.0mm max. My benchmark 25C Zipp Tangente Speed Road Tubeless (RT25) comes in at 26.0mm at 80psi and the 28C at 29.0mm at 70psi.
Crosswinds within reason didn't bother these HEDs even though they have more of a V-shaped spoke-side rim profile than most of the U-shaped ones of current carbon hoops.
Miles and I had a slightly different impression of the Vanquish 4's comfort. At 60-65psi with 25C tires, I found them to be in the middle of the range of the all-around carbon road disc wheels I've tested for this review. They didn't seem a whole lot more comfortable at 50psi using 28C tires either. I found others including the ENVE 4.5 AR more comfortable
Ever the hardman, Miles found them very comfortable at 70-75psi over rougher roads even though we weigh much the same.
We did agree that the hubs rolled smoothly and the freehub audibly lets you know when it is coasting. It's not anywhere near as loud as a Chris King, i9 or even Mavic hub. While I prefer a quieter DT240 or silent Zipp Cognition hub, I didn't mind the HED freewheel Sonic signature, a slightly higher pitched, higher quality sound.
Miles dug it.
Perhaps we've become spoiled with so many hubs not giving you pre-load adjustment options like these HED hubs do. The rear axle loosened and tripped up Miles when he swapped cassettes requiring readjustment to get it back into his frame. I had a similar issue with somehow changing the front preload and needing to readjust to get the rotor and caliper realigned. We're both amateur wrenches and can deal with these things. I think this would frustrate most enthusiasts who may be a little less experienced dealing with these kinds of things.
We also agreed that the wheels' tubeless setup wasn't great. While both of us have a lot of experience with tubeless tires and rims, our experience with the Vanquish 4 suggests HED is behind the tubeless wheelset leaders.
First, HED doesn't provide tubeless valves with these wheels. While that's not unheard of, it is unusual these days and seems like a mistake considering you want to make things easy for your customers, especially considering all the variables in setting up tubeless wheels.
Second, for the wheels we tested, HED sent a rubberized sleeve or grommet that you put the valve into and then need to put in the rim's valve hole. There's very little tolerance for getting that sleeve in if you don't cut out all the tape surrounding the valve hole.
If you wrap your rims twice with tape as I do, there's no chance of getting it in unless you have a very sharp, small knife and remove all the tape covering the hole after the first pass and then again after the second. Using a valve I had that already had a wide rubber bottom, I didn't see the value of the grommet, couldn't get it in deep enough for the tire bead to easily clear, and put them aside.
Why the need for the grommet? Well as Miles and I learned, without it, the valve will come through the rim bed if, or in our cases when, the tire pressure exceeds about 80psi for any length of time. It happened to Miles when he had his bike on the top of the car in the sunlight. My bike was inside the car on a hot day when the valve came through.
I went back, retaped with more attention to clearing the hole and getting the grommet in place. With that done, no problemo. Further, HED says they've changed the layup so that the grommet is not needed and no longer shipped with new Vanquish wheels.
The tubeless tires we used required a compressor for the tire beads to lockout in the rim bead hooks. We also needed to put sealant in the tires for them to hold air for any length of time. For 28C tires, the one-shot canister Joe Blow type pump didn't offer sustained enough pressure to lock out the beads.
Noting that Miles and I each had difficulty (and made a bit of a mess) trying 3 different tires, I'm led to believe that an easier mating bead hook would improve the tubeless setup experience. Or, you could turn this over to your local wrench to take care of it.
With the tubeless set up out of the way, the Vanquish 4's performance will hopefully put it out of your mind. It's available at HED dealers and online using this link to Competitive Cyclist, one of my top-ranked stores.
HED has recently renamed the wheelset the Vanquish RC4 to reinforce that it is a Road Carbon wheelset. They are also selling the one reviewed above as the Vanquish RC4 Pro and a model with a lower spec hubset called the Vanquish RC4 Performance.
INDUSTRY NINE i9.45 – A DISTINCTIVE WHEELSET WITH RACE-LEVEL PERFORMANCE
I've always thought about Industry Nine as a hub company with its high POE (points of engagement) and brightly colored hubs garnering all the attention.
Turns out, "i9" also sells all-around, aero, and climbing carbon road disc wheels amongst a broader wheelset line.
The i9.45 road disc wheelset reviewed here is a collaboration between i9 and the rim and wheelset maker Reynolds. After evaluating them, it's clear these 45mm deep all-around wheels stand out in a number of important ways and has me now thinking about Industry Nine as both a hub and wheelset provider.
When I took them out of the box, I didn't quite know what to think. The hubs and spoke nipples on my test set are purple, one of 9 distinct colors you can order in addition to black and silver. The labels are rim-depth, stick-on ones with i9's large, hub-inspired logos attached.
The rims themselves look like they are 2nd generation, converted rim-brake hoops with a hybrid-toroid profile whose curvature abruptly stopped in time for an unfinished brake track. Yet they are 3rd generation width (21mm internal, 28mm external) and tubeless-ready.
I wondered if I was about to test a wheelset designed by committee, the kind that melds the voices of past successes, exciting new ideas, and compromises needed to meet management's cost and schedule targets.
It's a good thing we don't bias our reviews on initial impressions or how a product looks. Every cycling enthusiast has their own perception of what looks good to them.
On the road, the i9.45s are full-throttle, road race wheels. They are stiff, snappy, and responsive, great on a rolling course and one with a lot of climbing.
While the POE isn't something most enthusiasts will notice or should care about, the Torch's 60 POE (or 3 degrees between engagement points) is 2x or more than most hubs, something you do notice if you are doing any kind of competitive riding. Fellow In The Know Cycling tester and USAC Nationals Masters racer Miles felt near-instant engagement when sprinting out of corners or off lead-out wheels when he competed on the i9.45s.
A distinctive sound comes from that hub, louder than most but similar in volume to Chris King and new Mavic hubs. Here are videos comparing the Chris King and i9 Torch and another comparing the Mavic 360 and DT Swiss. These hubs or their internals are used in many of the best road disc wheels.
The Torch hubs ride buttery smooth both in the front and rear. They make the wheels roll about as well as any Miles and I have ever ridden on the road.
Smooth-rolling doesn't equate to ride comfort though. The later is a function of your tire width and pressure and the compliance available in the integration of the wheel's rims, spokes, and hubs. While your tire choices can improve comfort, your wheels are usually what limits it.
While not uncomfortable and despite trying different tires at different widths and pressures, we didn't find the i9.45 as comfortable as others in this all-around road disc wheelset category.
If you are a racer or enjoy the competition of group rides, lateral stiffness matters more to you than compliance, aka vertical stiffness. And, the i9.45 has lateral stiffness in spades.
That stiffness along with the rear hub engagement make these wheels very responsive, fast to accelerate, and good on climbs. They also handle precisely and confidently, helping to keep you on your line going through a turn.
You can pick these wheels up, while supporting In The Know Cycling reviews, at top-ranked store Competitive Cyclist, one of my top-ranked stores.
REYNOLDS BLACKLABEL AERO 46 DB – FAST, STIFF WHEELS BEST FOR ROAD RACERS WHO WANT TO BE HEARD
If you are afraid of heights, people tell you "don't look down".
If being on trend is important to you, I'll give you the same advice when it comes to the Reynolds Aero 46 DB carbon disc wheelset.
However, if road speed unperturbed by crosswinds is more important, just look forward, pedal and smile.
Reynolds has stuck with a classic, V-nose design for the spoke edge of these wheels and added a somewhat toroid-shaped rim profile heading to the other edge where the rim meets the tire for the 46, 65, and 80mm deep disc and rim brake wheels in its Aero line. This, when it seems like the world of carbon bike wheels have gone to blunt nose, U-shaped rim profiles.
For me, Reynolds' design definitely works to produce and maintain my speed. While I did find myself looking down riding these wheels, it was to see my speed and power output rather than the rim profile. With the Aero 46 DB it felt like I was riding faster than normal in the same power ranges I normally ride.
My experience is, of course, anecdotal rather than scientific. Interestingly, I came across the wind tunnel chart below of tests done by DT Swiss.  It compares the aero drag of their ERC 1100 Dicut DB wheels, designed by the Formula One aero engineers of SwissSide they regularly tout, against Reynolds Aero 46 (blue line) and Zipp 303 Firecrest (grey line) wheelsets.
About 80% of our road riding is done when the wind is coming from a 0 to 10-degree angle (or "yaw") and 50% is done between 0 and 5 degrees based on field testing done by Flo Cycling.
Unfortunately, DT Swiss didn't specify whether the Reynolds or Zipp wheels are rim or disc brake or current or older models. It is kind of important as Reynolds only makes the Aero 46 in a disc brake version now and the current Aero 46 DB (introduced in 2017, the same year as the ERC 1100 Dicut DB wheels) are wider and likely more aero than the 2016 Aero 46 DB and rim brake versions.
Based on when the DT Swiss wheels were being designed and wind tunnel tested, my guess is that they are benchmarking the ERC 1100 against older models of the Reynolds and Firecrest rim brake wheels.
Regardless, it's interesting to see the Reynolds Aero 46 held up as a benchmark in the same way the Firecrest has for years (but no longer should be as the NSW has surpassed it).
The second aero consideration is how well a deeper wheel does in managing side or crosswinds. Much of the reason for the move to the blunt nose design was to… uh… blunt those crosswinds and keep riders from having to steer against the wind and constantly modify their line or get blown off the road.
Well, that design clearly works. Wheels like the blunt nose Zipp NSWs in road disc and rim brake versions at various depths are better than the old Firecrest used to be.
But, my experience with the Aero 46 DB found them as good in crosswinds as the NSW despite a very different design. I rode 100 miles and 10,000 feet on the Reynolds wheelset in the Vermont mountains on a horrible rainy day with swirling winds coming at me from seemingly every direction and often when I was crawling up steep passes or "gaps" as they call them up there. Weighing a mere 150lbs/68kg, I notice crosswinds as much as anyone.
My mind and body were truly miserable in the rain and wind of this ride but the Aero 46 DB wheels were totally unphased by either.
That reminded me of what I often remind you: focus on performance rather than the specs or design hype (though Reynolds does hype their rim profile as crosswind beaters).
On to other performance considerations…
The stiffness and rolling smoothness of this wheelset is good though not without a few characteristics I don't care for.
Both in and out of the saddle I find these Reynolds wheels plenty stiff. After many rides, the wheels remain true and I've found the spokes are all still tensioned. But when I crank out big watts (for me) going up steep hills, I occasionally hear the spokes ping.
I've flexed the spokes by hand and heard the pings but can't tell whether they are coming from the ends of these straight-pull spokes in the flanges or rims, from rubbing against each other in the cross pattern, or from rubbing against the inside edge of the rim where the spoke passes through to reach the internal nipples. My guess is that it is the latter.
Whatever it is, it is a little disconcerting to hear these pings when you are cranking it out going uphill even though, as mentioned, the wheels ride stiff and have remained true.
They also ride very smoothly on the Torch hub internals supplied by Industry Nine. That said, much like the Chris King hubs, the i9s make a distinctive, loud freehub noise. Zing zing zing zing.
While I know it is popular with some, I personally don't care for freehub zinging. You attract attention coasting down a road and you can annoy or even anger someone pulling their legs off in front of you to hear you freewheeling behind them. Sometimes it's an invitation to pull enough to drop you and your coasting, wheel-sucking noise.
While my personal bias against occasional spoke and freehub noise doesn't affect these otherwise stiff and smooth-rolling wheels, I found the compliance or comfort of the 46 Aero DB to be their weak link.
I ran this road disc wheelset tubeless with both 25C and 28C Zipp Tangente Speed RT and Schwalbe Pro One tires on it to try to find the best combination of comfort, speed, and handling. No matter, I couldn't get beyond average compliance with any of these.
As the chart above and others like it show, wider tires increase aero drag. On the flip side, wider tires reduce rolling resistance, can improve handling, and allow you to ride at lower pressures to improve comfort.
So there are tradeoffs and you have to consider and tire choice decisions based on what you prioritize among those trade-offs.
For example, when you start riding at aero speeds (18-20 mph/29-32kph and up), the reduction in aero drag of a narrower tire far outweighs the increase in rolling resistance. Don't ride that fast and care about comfort more than anything? Put on wider tires because your rolling resistance will be lower, comfort will be greater and you won't be going fast enough to affect your aero performance.
Assuming, though, that you are looking to ride at aero speeds on these aptly named Reynolds Aero 46 DB wheelset (and the other wheelsets in this carbon disc wheelset category), know that only 25C tubeless tires measure narrower than the 28.2mm wide rims at the "brake track" that have a 28.6mm max width. The Zipp Tangente Speed tires measure 25.8 mm wide and Schwalbe Pro One measures 27.5 mm, both at 80 psi, the max pressure you'd want to run tubeless tires on 19C rims even if you weigh 200lbs/80kg. 28C tires measure wider than the outside width of the rims.
I didn't measure them with tubed clincher tires. From my experience with other 19C rims, the benchmark 25C Continental Grand Prix 4000S II at 100psi measures very similarly to the Schwalbe Pro One at 80psi. Both measure wider than other popular tubeless and tubed clinchers.
With the 25C Zipp Tangente Speed road tubeless inflated to 65 psi where I run my tubeless tires, the Aero 46 DB weren't comfortable. Tolerable, yes. Comfortable no. If I were racing, I'd go with these tires both for their width on these wheels but also because they handle beautifully. You can read about other tire options in my review of tubeless tires.
You can order these wheels through these links to Chain Reaction Cycles and Wiggle.
ROVAL CLX 50 – ANOTHER GOOD CARBON DISC WHEELSET OPTION THOUGH AT A HIGHER PRICE THAN MOST 
The Roval CLX 50 is one of those all-around road disc wheels that makes me smile. Not because it does anything notably better than other carbon disc wheelsets I've reviewed in this post, except perhaps accelerate, but because it does so many things well just like other wheelsets in this post.
I couldn't have written that paragraph above a couple of years ago. Not just about Roval but about a good-sized, competitive collection of carbon all-around road disc brake wheelsets we enthusiasts now have to choose from. Like the Roval CLX 50 Disc, there just weren't that many all-around wheelsets that really did road disc bikes justice a short while ago.
Now there are. And that makes me smile.
Interestingly, the Roval CLX 50 rim and disc brake wheels share the same profile – width, depth, shape, tubeless-ready, rim bed, etc. Sure, the two wheels have different spoke counts and hubs but even the hubs have the same DT Swiss 240 internals.
While many of the first two generations of road disc wheels were optimized for rim brakes and tweaked for discs, this one appears to suit both formats well, if not necessarily optimized for either. It may straddle the Gen 2/3 characteristics I laid out earlier, but these compete on performance (and specs) with the latest Gen 3 all-around wheels.
Yes, these road disc wheels are heavier than their rim brake brothers, but the CLX 50 disc brake wheelset, at a measured weight of 1457 grams, is one of four wheelsets in this review coming in at under 1500 grams. So, it's not sacrificing anything by being a rim twin with its rim brake brother.
[By the way, the 1415 gram claimed weight is probably without rim tape. I and several others that have reviewed this wheelset and their actual weight all come in somewhere between 1440 and 1460 grams, likely due to whether we ran the tape around once or twice.]
The Roval CLX 50 has a modern aerodynamic profile and maintains your momentum well. It's what you should expect from 50mm deep wheels that will set you back US$2400, £1870, €2200 as these will. Not all wheels deliver speed even at that price that but these clearly do.
They remain stable and easily handle in the crosswinds. These will tell you they are feeling the wind but they won't jerk you around. A light steady touch on the tiller will keep them on course.
They also accelerate and climb better than most. Their light weight, good depth, and sufficient stiffness makes for a great combination leading into and going up hills.
The CLX 50 wheelset also compliant and handles well, on par with many of the wheelsets in this review.
Run them tubeless and lower your pressure if you want maximum comfort. Toss the plastic spoke hole plugs they come with and run rim tape if you want minimum hassle installing tubeless tires. The tires can get hung up on the plugs and make installing and removing them a whole lot more work than anyone should have to do to enjoy cycling.
Click on these links to Competitive Cyclist and Know's Shop to buy the CLX 50 wheels online at stores I recommend because of their superior price, selection and customer satisfaction ratings.
WHY I MAY NOT HAVE INCLUDED WHEELSETS YOU'VE HEARD ABOUT
Carbon disc wheelsets are a fast-growing and fast-changing category of cycling gear. The generation chart displayed near the top of this review shows how much has changed in the last few years.
In this post, you've got the latest, best, all-around depth, carbon disc wheelsets available widely to consider in this category. Several others are sold in low volumes or supported only within a limited geographic region or both.
I wouldn't recommend any of the Gen 2 wheelsets today if you are looking for the best performing wheelsets in this category. I reviewed a bunch of them in 2017 and the Gen 3s are noticeably better and I think worth paying more for.
There are a growing number of deeper, mid-depth aero (60mm and up) carbon disc wheelsets that you can read about here. I've also reviewed several excellent lighter weight, lower-profile road disc wheels ideal for climbing you can see here.
* * * * *
Thank you for reading.  Please let me know what you think of anything I've written or ask any questions you might have in the comment section below.
If you've gotten some value by reading this post or any of the reviews or comments on the site and want to keep new content like this coming, click on the links and buy at the stores they take you to. You will save money and time while supporting the creation of independent and in-depth gear reviews at the same time.
If you prefer to buy at other stores, you can still support the site and new posts by taking a pull here or by buying anything through these links to eBay and Amazon. Thank you.
If you'd like to stay connected, use the popup form to get notified when new posts come out and click on the icons at the top to follow us on Twitter, Facebook, Instagram, and RSS.
Thanks and enjoy your riding safely!
First published on September 23, 2018. Date of the most recent major update shown at the top of the post.
Follow us on facebook.com/itkcycling | twitter.com/ITKCycling | instagram.com/itkcycling