BEST ROAD BIKE PEDALS
While road bike pedals may not be very sexy or expensive compared to your bike frame, other components, and kit, they are just as important to your performance, comfort, and safety out on the road.
This Know Fast review gives you the essential knowledge you need to decide what road bike pedals to get and where to get them in a brief, enthusiast-focused, ad-free post. I've done the same comprehensive, comparative, and conflict-of-interest-free gear and store evaluations that normally go into longer In The Know Cycling reviews to come up with my recommendations and insights and write them up in a form that you can more quickly read and act on.
RECOMMENDED ROAD BIKE PEDALS
I recommend Shimano Ultegra pedals – the PD-R8000 – as one of the two best road bike pedals for most road cycling enthusiasts. They perform well, suit the fit needs of most cyclists, are very durable, and require no maintenance.
At a market price of US$200/£133/€129, you can buy Shimano Ultegra pedals at the best prices by following these links to  Competitive Cyclist, Power Meter City 10% off w/code ITKPMC10, Planet Cyclery, Merlin, Tredz 10% off w/code ITKTDZ10, and Sigma Sports, stores that I recommend because they have very competitive prices, top customer satisfaction ratings from fellow cyclists as reported by independent services, and a great selection of gear for road cycling enthusiasts.
You could spend about 40% or US$80 more on Shimano's Dura Ace PD-R9100 road bike pedals but I see no reason to do so unless you are a committed racer. Likewise, you could save 25% or US$50 less by going with their 105 PD-R7000 model but the better performance and wider Q-factor option with the Ultegra make it the best solution for enthusiast-level road cyclists.
If your biomechanics or bad knees require a fit solution somewhat outside the norm or you just prefer pedals you can clip in from either side with near near-frictionless float, I recommend the Wahoo Speedplay Zero road bike pedals. Wahoo Fitness now owns the Speedplay brand, has kept the basic design and compatibility of the Zero line but eliminated the need to regularly grease the pedals.
In my experience riding both the new and prior Speedplay models, I find they operate identically and the latest ones are more consistent in the effort it takes to clip into and out of them and on par with the Shimano Ultegra road bike pedals in that regard.
Having ridden the Wahoo Speedplay Zero road bike pedals for 1000 miles as of this update, I can't judge their long-term durability but I've felt no performance decline in clipping in and out or the ease of their float. You still should dry lube the cleat springs every few hundred miles to keep them operating at peak performance, something that takes only a few bursts of spray per cleat.
At a market price of US$230/£200/€235, you can buy Wahoo Speedplay Zero pedals online at these links to Competitive Cyclist, Planet Cyclery, Tredz 10% off w/code ITKTDZ10, and Sigma Sports.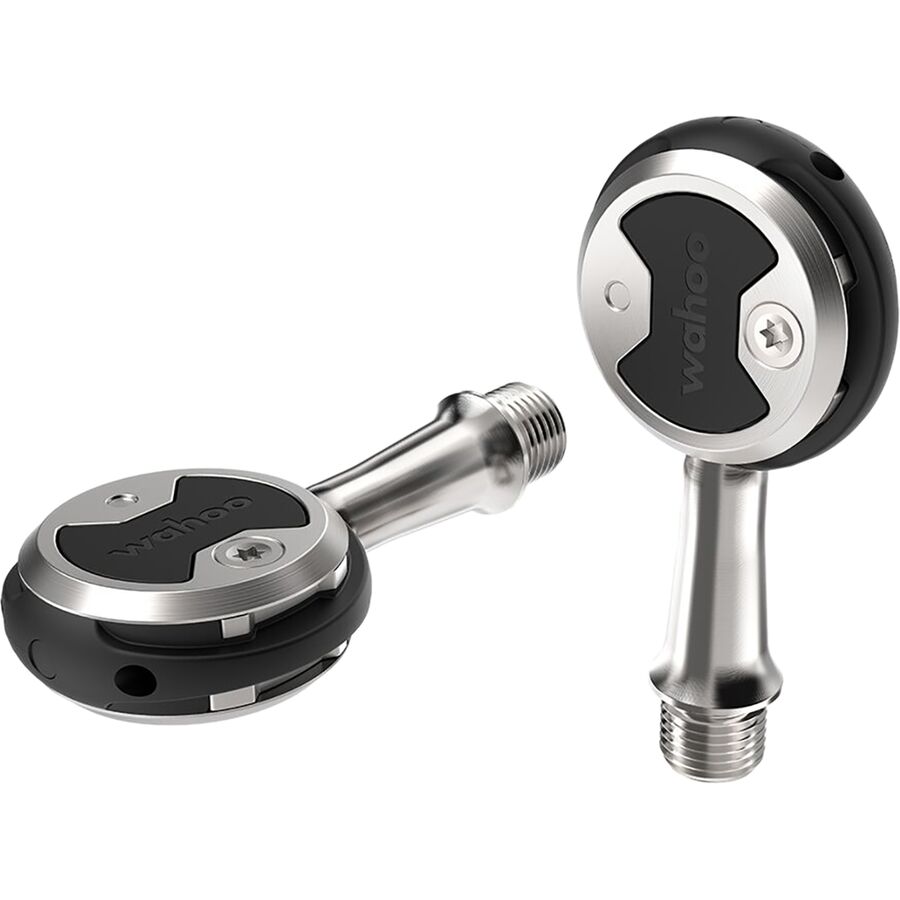 Speedplay pedals also come in less expensive and more expensive models. The major difference between them is the material used in the spindle rather than the pedal body itself.
The Wahoo Speedplay Comp model uses chrome alloy steel spindles that are coated in black. I've used these spindles in an uncoated version for years on a set of Speedplay pedals made prior to Wahoo taking over. While they don't look as shiny as the stainless steel used in the current Zero model, they've held up well with no hints of corrosion. They weigh only 10 grams more per pedal and come with what Wahoo calls the Easy Tension cleats rather than the Standard Tension ones included with the Zeros.
Except for changing the color of the plastic covers used to make walking easier from yellow to black, the Standard Tension cleats are identical to and cross-compatible with the ones Speedplay used for years on earlier Zero models. In normal use on the road, I couldn't tell any difference clipping into and out of the Easy Tension cleats (they have grey covers).
For essentially the same performance but with a little less shine, the Speedplay Comp sells for US$80/£65/€65 less. They are available at the same links provided above and I'd recommend them unless you prefer stainless spindles.
The higher-priced Wahoo Speedplay Aero road bike pedals are the same as the Speedplay Zero save for a dimpled cover that goes over one side of the pedal. The Wahoo Speedplay Nano pedals use a titanium spindle that saves 56 grams per pedal at an added cost of about $2 per gram.
Unless you are a pro, racing in a wind tunnel, or have money to burn, there is no aero or climbing benefit that mere enthusiast mortals can gain from these features.
I don't recommend you buy current Look or Time road bike pedals, the other two major road bike pedal brands.
Look's Keo pedals don't have as stable an interface between the pedal and cleats as Shimano or Speedplay systems. This leads to less efficient power transfer and, in my experience and those of many others, an annoying creaking sound that comes and goes. While lower-priced, they aren't as well built as Shimano or Speedplay pedals.
SRAM bought the Time pedal line (February 2021) and has made no commitment beyond continuing to sell them by mid-2021. The line was updated just recently by Time's prior owners but had not been in the field long enough for performance and maintenance feedback to roll in.
In The Know Cycling is ad-free, subscription-free, and reader-supported. If you want to help keep it rolling without any added cost to you, buy your gear and kit after clicking the store links on the site. When you do, we may earn an affiliate commission that will help me cover the expenses to create and publish our independent, comprehensive, and comparative reviews. Thank you, Steve. Learn more.
WHAT MATTERS MOST
There are 5 performance criteria that really matter in choosing the best road bike pedals and another 4 design aspects that matter much less or at all. Durability and maintenance are the key quality criteria for pedals. And cost always matters but changes more with design specs than pedal performance.
Performance
Clip-In – Each pedal system's approach to clipping in is somewhat different but all of them take only a few rides to get used to. Once you do, they all become second nature and the only thing that differentiates them is a personal preference.
Know It:
You'll see some reviewers state that certain road bike pedals "perform" better than others because they clip-in "easier".  Hogwash. It's a personal preference rather than a performance difference.
My personal preference hogwash? Historically, I've used Speedplay Zero pedals for their superior fit, float, and clip-in performance.
I've used single-sided Shimano Ultegra pedals and Look Keo pedals extensively and I'm equally confident clipping into them as I am in my Speedplays.
Some people judge clip-in performance after the first couple of rides. This is misleading. It takes a half dozen or so "break-in" rides for the spring mechanisms to work through the protective sealant applied at the factory and get to a steady tension.
Release – As with clipping in, each pedal system releases somewhat differently when you twist your heel out. But, all work effectively.
Know It:
Shimano Ultegra pedals and Look Keo pedals use adjustable springs.
Look Keo Blade pedals gave you a choice of two or three carbon "blades" with pre-set tension levels instead of a spring.
Speedplay uses a non-adjustable tension spring in its release mechanism (the float is adjustable – more below). Their Standard Tension cleats work fine for me at my 150lb/68kg weight. While I couldn't tell any difference clipping in and out, they also make Easy Tension cleats that you might prefer if you weigh less or are new to riding clip-in pedals. The Easy Tension cleats come standard with the lowest-priced Comp model. You can buy either set of cleats separately for about US$50/£50/€60.
Stability – Once clipped in, you want as stable and quiet an interface as possible between your pedal and cleat. The more stable the interface, the more efficient your power delivery.
Know It:
If the interface isn't stable either initially or as the cleat and pedal component facings wear down, you'll feel play or rocking in your road bike pedals.
If the interface isn't quiet, it still may be stable. Creaking can be eliminated with regular cleaning and periodic dry lubing of the cleats (Speedplay) or replacement of the cleats with an aftermarket version (Exustar).
Float – Float is the term used to quantify how much your heel can swing side to side when your foot is clipped in.
The more float you have, the more likely you can find a comfortable alignment between your knees and feet. But, the more your feet float, the less efficient your power transfer will be and the further you have to twist your foot to unclip from the pedal.
On the other hand, the less float you have, the more accurately your cleats need to be set up to avoid messing up your knees.
Know It:
If you get your bike fit every few years, you can get your cleats set up for the right alignment and you can (and should) go with less float.
Most pedal systems offer a choice of cleats, each with a different amount of float. Shimano Ultegra pedals come standard with 6-degree cleats but sell 0- and 2-degree options; Look Keo pedals come with 4.5-degree cleats; 0- and 9-degree options; Speedplay Zero pedals include one set of cleats that can be set between 0 and 15 degrees of float.
Speedplay's float is nearly frictionless and feels totally free; Shimano's float has somewhat more friction and Look's more still. This is more of a preference than a performance difference.
Axle Length – Pedal systems come standard with 53mm long axles between the crank and centerline of the pedal. This distance is called the "Q-Factor." If you have wide hips, some hip or leg asymmetry, or limited flexibility, you may need longer axles or "spindles"  to make pedaling more efficient and more comfortable.
Know It:
A good bike fit will determine if your performance and comfort can be improved by riding road bike pedals with longer axles.
Shimano's newest Ultegra and Dura-Ace road bike pedals are available with 4mm longer axles; Speedplay offers 3, 6, and 12mm longer axles on the Zero models later. Look does not have optional axle lengths for their pedals.

Quality
Durability – Bearing wear, water resistance, spring fatigue, pedal body integrity, interface material wear, and cleat wear are all considerations in considering durability.
Know It:
Shimano Ultegra pedals and earlier model Speedplay Zero pedals are clearly better made and more durable than those from Look Keo pedals. The pedal plates that interface with the cleats don't wear as well on the Look pedals. Bearings also don't hold up as long.
Maintenance – You need to do some maintenance on all of these road bike pedals to get the full useful life out of them.
Know It:
Speedplay cleats require dry lubing in the spring mechanisms every few hundred miles or kilometers, or about as often as you wet lube your chain. They (both your cleats and chain) can get gunked up in dirt or sand so while it's simple to keep them cleaned and lubed, you have to commit to doing it.
At the other end of the scale, you can pretty much ignore maintaining Shimano Ultegra pedals and cleats and still sleep (and ride) well.
Look Keo cleats need to be regularly cleaned off to avoid creaking while pedaling (and that doesn't always work).
Cost
Shimano, Look, Speedplay, and Time each make different levels of road bike pedals to serve the range of road cyclists from recreational riders to racers. The pedals run from as little as $40, £35, €35, less than what you pay for a tire to 10-15x that amount, a sum that you would pay for an alloy upgrade wheelset. Yeah, really!
Getting cleats with more or less float than the standard ones that come with the pedal system or longer axles can cost extra.
As with other categories of bike gear, the highest-priced pedals are generally lighter, have higher strength-to-weight materials, and have design specs that they claim will provide higher performance levels. While weight-weenies and prestige buyers may see some value in these attributes, they make little if any noticeable performance difference to road cycling enthusiasts.
Design
Much is made of the four design features I describe below in the marketing of some pedal systems. For most road cycling enthusiasts, they don't affect your performance much, certainly not to the level of the five performance characteristics described earlier, if at all.
I've listed them roughly in order of their relative potential impact on performance.
Stack height – Stack height is the distance between your foot and the pedal. The theory goes that the lower your stack height, the more efficient your power transfer as there is less getting between the source of your power and where it is being applied.
Shoes have a stack height – the sum of the thickness of your shoe's insole and outsole. Pedal cleats attached to your outsole and add to your overall stack height.
Know It:
The stiffness of your shoe's outsoles and stability of the interface between your cleats and pedals will matter a great deal more to power transfer than a few millimeters difference in stack height.
All things being equal – a stiff sole, a stable interface, a limited amount of float, good pedaling mechanics, etc. – there's little difference between the road bike pedals I've recommended or the more expensive versions of each.  The Look pedals do have considerably more stack height than the others but it's hard to quantify what effect that has.
Perhaps the most important thing to do with the knowledge of your stack height is to raise or lower your seat to compensate for any change in stack height from a new set of pedals (or shoes).
Weight – As with all things cycling, weight is promoted well beyond its importance. And, as with other cycling gear, the credibility of claimed pedal system weight is suspect. Further, some companies give you both their claimed pedal and cleat weights whereas others just give you the pedal weight.
Know It: 
Most road cycling enthusiasts are not going to notice the 20 grams or so difference per pedal, the most you'll find in the road bike pedal systems for cycling enthusiasts I've reviewed in this post.
Speedplay may appear to have lighter pedals, but the clip-in spring mechanism is found in the cleats, making the cleats heavier than those from Shimano and Look. Look at the sum of the weights of the pedals and cleats rather than just the pedal weights.
Walkability – No road bike cleats make walking easy and none of these are easier to walk in than others. You'll be safe in any of these when you are walking around a cafe as long as you do so deliberately.
Know It:
Cyclocross, gravel, commuting, or recreational cyclists who do a good deal more walking or running than roadies are really the only road cyclists that should buy a pedal system based on how well you can walk in their cleats. In those cases, mountain bike pedals (and shoes) are the best solution.
Platform Area – The idea behind this design feature is that your power is transferred more effectively by a wider or larger platform between your feet and the pedals.
Your platform is defined by some pedal companies as the area where the pedal and cleat meet. Others feel the key measure should be the area where the shoe and cleat meet. Some emphasize the width of the platform or while others promote the area of the platform.
Know It:
None of this matters for road cycling enthusiasts who wear the best road bike shoes that fit well without your feet or heel moving and have stiff carbon outsoles. If you don't have shoes with those characteristics, a bigger platform area (however defined or measured) won't help you a whole lot compared to those who do.
WHERE TO FIND THE BEST ROAD BIKE PEDALS
If you want to buy other pedals in the Shimano, Look or Speedplay lines beyond those I've recommended, here are the links to the listings at online stores that have a good selection of each, the most competitive prices, and top customer satisfaction ratings.
Shimano Dura-Ace, Ultegra, and 105: Competitive Cyclist, Power Meter City 10% off w/code ITKPMC10,  Merlin, Tredz 10% off w/code ITKTDZ10, Sigma Sports, Know's Shop
Look Keo Blade, Keo 2 Max, and Keo Classic: Competitive Cyclist, Power Meter City 10% off w/code ITKPMC10, Merlin, Tredz 10% off w/code ITKTDZ10, Know's Shop
Speedplay Nano, Aero, Zero, and Comp: Competitive Cyclist, Planet Cyclery, Tredz 10% of w/code ITKTDZ10, Sigma Sports.
*      *      *      *      *
Thank you for reading. Please let me know what you think of anything I've written or ask any questions you might have in the comment section below.
If you've benefited from reading this review and want to keep new ones coming, buy your gear and kit after clicking the store links in this review and others across the site. When you do, we may earn an affiliate commission that will help me cover the expenses to create and publish more ad-free, subscription-free, and reader-supported reviews that are independent, comprehensive, and comparative.
If you prefer to buy at other stores, you can still support the site by contributing here or by buying anything through these links to eBay and Amazon.
You can use the popup form or the one at the bottom of the sidebar to get notified when new posts come out. To see what gear and kit we're testing or have just reviewed, follow us by clicking on the links below or the icons at the top of the page to go to our Facebook, Twitter, Instagram, and RSS pages.
Thanks and enjoy your rides safely! Cheers, Steve
Follow us on: Instagram | Twitter | Post | Facebook | Know's Club | iOS app | Android app | Strava