HED VANQUISH 4 – STIFF, VERSATILE YET NEEDING A BIT MORE CARE
This review of the HED Vanquish 4 wheelset appears alongside reviews of other all-around carbon disc brake wheelsets in my post The Best Carbon Disc Wheelset.
It would be an understatement to say HED Cycling took a while to offer an all-carbon clincher wheelset. One of the first to sell wheels using toroid shaped, deep-section rims to gain aero advantage over 10 years ago, the company had only used their patented design for tubular or carbon-alloy wheelsets.
That has now changed with the introduction of the disc brake only HED Vanquish carbon clincher wheelsets. By not making these in a rim brake version, HED effectively avoided the engineering challenges other carbon wheelset makers went through to prevent overheating, delamination or blowouts from the heat created by rim braking.
My fellow tester Miles, a successful P/1/2 racer who wins a lot, and I, a B-group rider who watches a lot of races on TV, evaluated the HED Vanquish 4, the 40mm deep all-around and shallowest of the new line which also includes 60 and 80mm deep models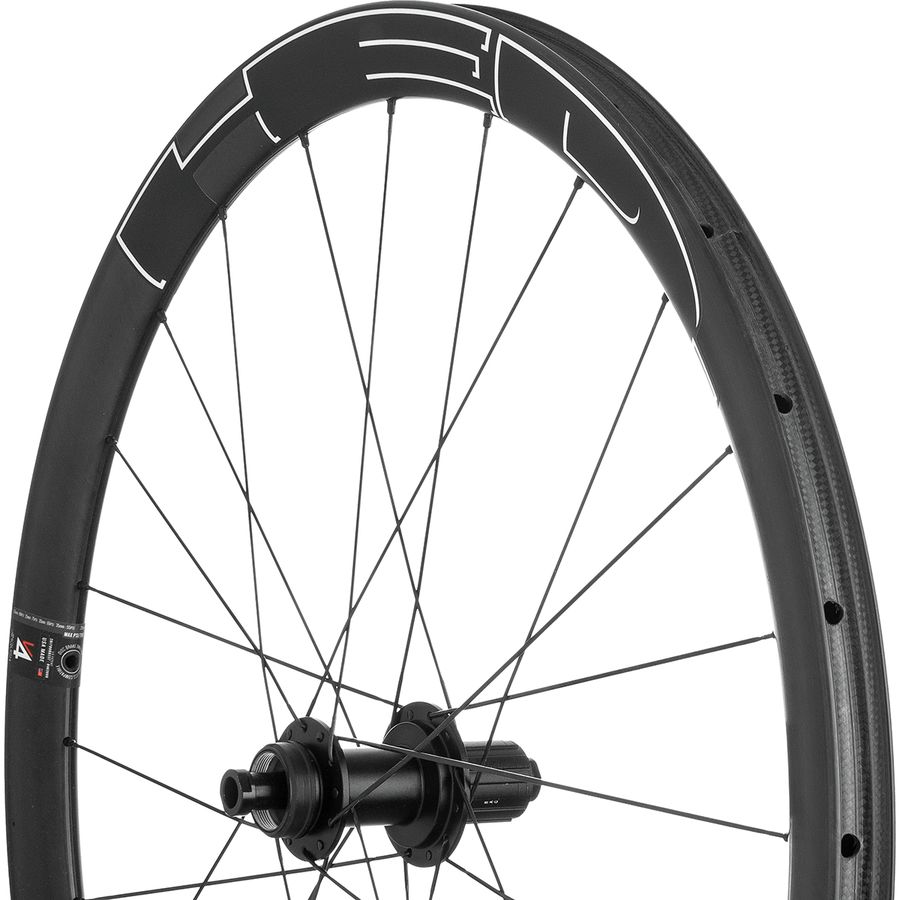 There's a lot to like about the Vanquish 4. This is a highly competitive road disc wheelset for the company's first all-carbon clincher offering.
At the same time, there are a few things still lacking and that might not appeal to the less competitive, less handy rider that makes me think HED would have benefitted from making and getting carbon clincher experience a bit sooner.
Above all, the Vanquish 4 is a supremely stiff wheelset. This provides a big advantage when initiating or responding to acceleration on the flats, charging uphill, and sprinting out of corners.
Miles felt a ton of confidence going hard into corners and the post-corner sprint stiffness was inspiring. In a full-out straightaway sprint, he found nothing lost in his forward progress toward the line.
The Vanquish 4 are relatively light wheels too. The pair we tested weighed 1466 grams without tape or valve stems, about 50 grams less than what HED claims and 55 grams more than the ENVE SES 3.4 the lightest and another one of the stiff wheelsets in this category.
While you probably want rims deeper than these 40.3mm ones for maximum aero performance or a flat criterium, a race whose last kilometer has a 3-6% kicker into the finish would be ideal for these HEDs.
If like me, you aren't a racer, all that good stiffness and handling and climbing are still the things you want and that I enjoyed in this wheelset. And if you branch out to do some mixed surface, gravel or cyclocross riding, the Vanquish 4 offers a lot of versatility as you can run 25C, 28C or wider tires with good sidewall support on these rims which measure 21.3mm internal width.
For best aero performance, you'll want to run 25C tires. HED's aero tests with the benchmark Conti GP4K SII shows the 25C perform better than the 28C version of the same model tire. My measurements show the Conti GP5K TL measures 27.0mm at 80psi or a millimeter narrower than the actual 28.0mm external rim width at the tire/rim intersection and 29.0mm max. My benchmark 25C Zipp Tangente Speed Road Tubeless (RT25) comes in at 26.0mm at 80psi and the 28C at 29.0mm at 70psi.
Crosswinds within reason didn't bother these HEDs even though they have more of a V-shaped spoke-side rim profile than most of the U-shaped ones of current carbon hoops.
Miles and I had a slightly different impression of the Vanquish 4's comfort. At 60-65psi with 25C tires, I found them to be in the middle of the range of the all-around carbon road disc wheels I've tested for this review. They didn't seem a whole lot more comfortable at 50psi using 28C tires either. I found others including the ENVE 4.5 AR and Zipp 303 NSW and Firecrest more comfortable
Ever the hardman, Miles found them very comfortable at 70-75psi over rougher roads even though we weigh much the same.
We did agree that the hubs rolled smoothly and the freehub audibly lets you know when it is coasting. It's not anywhere near as loud as a Chris King, i9 or even Mavic hub. While I prefer a quieter DT240 or silent Zipp Cognition hub, I didn't mind the HED freewheel sonic signature, a slightly higher pitched, higher quality sound.
Miles dug it.
Perhaps we've become spoiled with so many hubs not giving you pre-load adjustment options like these HED hubs do. The rear axle loosened and tripped up Miles when he swapped cassettes requiring readjustment to get it back into his frame. I had a similar issue with somehow changing the front preload and needing to readjust to get the rotor and caliper realigned. We're both amateur wrenches and can deal with these things. I'm not sure this wouldn't frustrate most enthusiasts who may be a little less experienced dealing with these kinds of things.
We also agreed that the wheels' tubeless setup wasn't great. While both of us have a lot of experience with tubeless tires and rims, our experience with the Vanquish 4 suggests HED is behind the tubeless wheelset leaders.
First, HED doesn't provide tubeless valves with these wheels. While that's not unheard of, it is unusual these days and seems like a mistake considering you want to make things easy for your customers, especially considering all the variables in setting up tubeless wheels.
Second, for the wheels we tested, HED sent a rubberized sleeve or grommet that you put the valve into and then need to put in the rim's valve hole. There's very little tolerance for getting that sleeve in if you don't cut out all the tape surrounding the valve hole.
If you wrap your rims twice with tape as I do, there's no chance of getting it in unless you have a very sharp, small knife and remove all the tape covering the hole after the first pass and then again after the second. Using a valve I had that already had a wide rubber bottom, I didn't see the value of the grommet, couldn't get it in deep enough for the tire bead to easily clear, and put them aside.
Why the need for the grommet? Well as Miles and I learned, without it the valve will come through the rim bed if or, in our cases when, the tire pressure exceeds about 80psi for any length of time. It happened to Miles when he had his bike on the top of the car in sunlight. My bike was inside the car on a hot day when the valve came through.
I went back, retaped with more attention to clearing the hole and getting the grommet in place. With that done, no problemo. Further, HED says they've changed the layup so that the grommet is not needed and no longer shipped with new Vanquish wheels.
The tubeless tires we used required a compressor for the tire beads to lockout in the rim bead hooks. We also needed to put sealant in the tires for them to hold air for any length of time. For 28C tires, the one-shot canister Joe Blow type pump didn't offer sustained enough pressure to lock out the beads.
Noting that Miles and I each had difficulty (and made a bit of a mess) trying 3 different tires, I'm led to believe that an easier mating bead hook would improve the tubeless setup experience. Or, you could turn this over to your local wrench to take care of it.
With the tubeless set up out of the way, the Vanquish 4's performance will hopefully put it out of your mind. It's available at HED dealers and online using this link to Competitive Cyclist, one of my top-ranked stores.
HED has recently renamed the wheelset the Vanquish RC4 to reinforce that it is a Road Carbon wheelset. They are also selling the one reviewed above as the Vanquish RC4 Pro and a model with a lower spec hubset called the Vanquish RC4 Performance.
In The Know Cycling supports you by doing hours of independent and comparative evaluations to find and recommend the best road cycling gear and kit to improve your riding experience.

You can support the site and save yourself time and money when you buy through the links in the posts and at Know's Shop to stores I rank among the best for their low prices and high customer satisfaction, some which pay a commission that helps cover our review and site costs.

Click here to read about who we are, what we do, and why.
You can compare my performance evaluation of the Vanquish 4 with other all-around road disc wheelsets in this review.
Follow us on facebook.com/itkcycling | twitter.com/ITKCycling | instagram.com/itkcycling