LOOKING FORWARD AND BACK – LATE SUMMER
After yet another great week of riding, and with a shift from a summer schedule to a more normal one about to kick in, it's time to take stock of things again here at In The Know Cycling.  While the activity in my life, and I can imagine in yours, seems non-stop, I find it helpful to look forward and back several times a year to see where we're going, where we've been, and ask for your comments on all of it.
STORE DISCOUNTS
First, I want you to know that together, we are driving cycling gear prices down for In The Know Cycling readers.
Online cycling stores see the growing community of In The Know Cycling readers that want detailed, tell-it-like-it-is, head-to-head product previews done by and for fellow enthusiasts.  They recognize the value that more knowledgeable readers can bring when they come to their stores knowing what they want to buy after filtering out, or ignoring altogether, the influences and confusion created by industry hype, product ads, and click pressure that can slant reviews at other sites.
It makes the online store's job easier, and greatly reduces their customer acquisition costs, to have you come to them from a link on In The Know Cycling already knowing and ready to buy what you want.  And, they are willing to reduce their prices for you if you do that.
Power Meter City began been offering readers a full 10% discount late last year and continues to do so on most of the dozen brands of power meters and other accessories they carry.  Along with their wide selection and one of the top service ratings of any store I follow, the exclusive discount for In The Know Cycling readers makes Power Meter City the obvious place to go if you are planning to buy a power meter.  And if you aren't sure about power meters, here's a post that will help you answer the question: Should you be doing power meter training?
Tredz has recently begun providing a 10% discount exclusively for In The Know Cycling readers on purchases over £50 with some exclusions. Tredz is a four store community chain of stores with a very robust online arm that carries over 500 brands of road and mountain bikes, gear and kit for customers in the UK and Europe.
I'm also excited to tell you that Competitive Cyclist, the top US-based online cycling store for road cyclists, is now offering 10% off purchases for In The Know Cycling readers.  You, my dear readers, are the first and only group that Competitive Cyclist has ever offered this kind of discount program.  You can read about how it works here.
Competitive Cyclist already has the widest selection and the best service of any online cycling store in the US, better than any LBS I have ever shopped at as well.  With this discount, they'll now have some of the best prices.
I'll soon be announcing another one that is finishing up the details of their program for you now.  There are additional stores that I've talked to about providing a discount program.  It's become clear that you are a distinct group of readers for which online stores are uniquely interested in offering discounts.
Please and thank you.  This stuff sure ain't cheap to begin with.
You can always go to our home page to see the latest listings and links to these discount programs and other deals from recommended stores in the box under the rotating photos.
Whenever you see "ITK10" after a link on the site, that's a store that offers a discount to readers and that's the code you enter in you cart or basket page.  Please recognize that you need to go to these stores through a link from In The Know Cycling for the code and discount to work.  The stores do this so that the code doesn't get abused by coupon sites and nonreaders, and so that they can track the last click to In The Know Cycling and support the site with a small commission to help cover our product purchases and the other costs that go into creating reviews and maintaining the site.
STORE RATINGS
Every few months, I update my ratings of the roughly 100 online stores I follow.  Only about a third of them have the combination of a good, independently evaluated customer satisfaction records and enough of a selection that includes the kind of gear road cycling enthusiasts look for.
The latest ratings can be found by clicking on my updated Online Bike Store Ratings post.  Those stores that do make the cut based on their customer satisfaction and product selection are ranked on those factors and on evaluations of their product prices and support for In The Know Cycling readers.
The top stores are still the top stores but there's been a fair amount of movement in the rankings since I updated this list in the spring.  Not surprisingly, stores make some changes in their pricing, selection, and support during the year and customer feedback on their satisfaction can shift as stores modify their operations.
The last two years have been tough for the cycling industry and most online stores have made changes to navigate their way through it.  Some have jumped ahead, others have fallen back, while still others have kept pace.  As consumers of cycling gear, these ratings and rankings are a way for you to keep up with where the stores stand relative to each other and inform your decisions on where to buy.  At least, that's my intention in putting these store evaluations together for you.
UPCOMING POSTS
As the photo atop this post attests, we've been busy evaluating a lot of gear this summer.  In the next six weeks, expect to see posts on the following:
Best Electronic Groupsets – Shimano, SRAM and Campagnolo have come out with new electronic rim and disc brake groupsets this year.  For those of you riding 10- or 11-speed mechanical groupsets, earlier generation electronic groupsets, or mixed sets, I'll tell whether it's worth buying one of these new groupsets and, if so, which.
Best Carbon Clincher Climbing Wheels – There have been a few new entrants into this popular category of wheels lately and Nate (who just finished 10th overall in the Mt. Washington Auto Road Bicycle Hillclimb and also rocked the 6 Gaps ride through VT), Moose (Kancamangus Highway, Bear Notch, Crawford Notch) and I (Mt. Greylock) have been riding a bunch of them.  I'll update this category which I first reviewed last spring. A heads-up: we may have a new best performer.
Best All-Around Wheels for Disc Brake Road Bikes – I'm nearing the end of evaluating a half-dozen wheels in what looks like a new, wide, all-around to moderately aero disc brake wheelset category – 19 to 21mm internal; 25 to 30mm external, 45-55mm +/- deep, tubeless.  Fast, fun, versatile.  Not sure I want this review to end.
The Best Spring and Fall Cycling Kit – With cooler fall days ahead, I posted this review early this year and is back rather than upcoming.  Worth a read now if you are planning to pick up some new kit to extend your season into the fall and beyond.
RECENT POSTS
Among the more popular post from this summer that you may have missed while out riding:
Zipp 454 NSW Wheelset Review – A Whale of a Tale – This review was added to my post on the Best Aero Bike Wheels
Why I Switched to the Wahoo Elemnt Bolt – Long-time Garmin users beware, there is worthy competition out there now.
Best Upgrade Wheels for Disc Brake Road Bikes – 2017 – A completely new review of this category of lower priced disc brake wheels that will definitely improve the ride you get from the stock wheels that came with your bike.
Quarq DZero and Watteam Powerbeat Reviews – Comparison of new power meters from companies with and without long track records demonstrated how tough it is to get this technology right.  These two have been added to an evaluation of over 40 power meters both proven and unproven in my post Best Power Meters for Road Cycling Enthusiasts.
Bontrager Paradigm Elite and Campagnolo Zonda C17 – Reviews of two good but differently performing alloy rim brake upgrade wheels.  Part of my review of the Best Upgrade Wheels for Rim Brake Road Bikes – 2017.
Lake CX332 Shoe Review – A review of one of the few performance shoes with real leather uppers, two Boas and a stiff sole. Part of my review of the Best Road Cycling Shoes.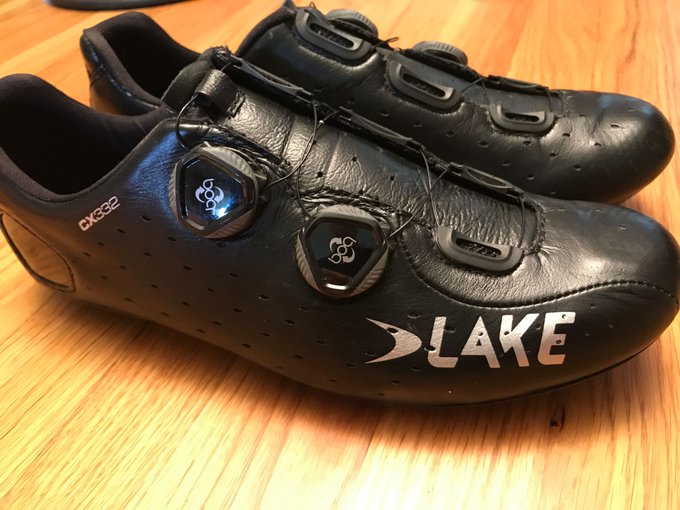 Best Summer Cycling Jerseys and Bibshorts – Helpful now in knowing what to grab in some of those summer kit sales going on now and next month.  Then again, if you ride in Australia, New Zealand or one of the many other countries in the Southern Hemisphere where summer is just around the corner, game on!
Better Paceline Riding Don'ts and Dos – Stirred up a bit of a hornet's nest with my suggestions on how to ride safely in a tight group.
What You Need to Have on Every Bike Ride – The list to end all lists, including this one.
* * * * *
Thank you for joining me and your fellow roadies on the site.  Let me know what you think of anything I've written or ask any questions you might have in the comment section below.
If you aren't already receiving new posts, you can enter your e-mail address in the Follow box at the top of the right-hand column.  Further down, you can also sign up to get posts sent to your RSS feed reader or follow In The Know Cycling on Twitter and Facebook.
Thanks and enjoy your riding safely!